A few weeks ago we attended our seventh Exposure! New attendees and exhibitors often ask us if we find the experience valuable, and we always answer with a resounding "YES!" Though we don't always come back to the office at the end of the day with a ton of new leads, we usually make several connections that end up working out in our favor later on down the road. It's all about the long game right?
In our original pre-show blog, we mentioned that we would be giving away this amazing light up frame with a custom Wichita pride print. Take a look at the final product below—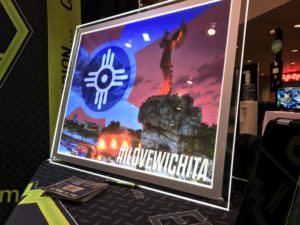 We'd like to congratulate our winner, Jose Gonzalez. Jose is the owner of Artistic Polish and Design, a local business that specializes in decorative concrete and flooring. Their primary focus includes polished concrete, epoxy flooring, and concrete counter tops.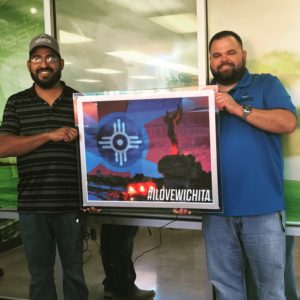 You too can have one of these awesome frames! We have a special running for our remaining stock at $295. This includes a full color print inside. Normally they run $420. They also come in a smaller size (16×10) for $195.
The sky is the limit for your photos, and it's incredibly easy to change them out. You just slide out the old one and drop a new one in. These frames make popular gifts, especially for car and sports fanatics.
If you're interested in more information regarding this product, you can contact us here. We usually respond to quote requests within 24 hours. With the holidays fast approaching, don't forget to reach out about our custom promo products as well.
With access to thousands of fantastic products that make for great employee and/or client holiday gifts, we'll gladly put together a presentation including several items that might interest you. If you prefer to research ideas on your own, you can access our promo product database here. Once you've found any options that stand out, send us an email to confirm product pricing.