Custom graphics aren't limited to vehicles alone. If you're constantly hauling trailers for your business or group, consider having trailer graphics installed. Recently VFW Post #6957 from Haysville approached us about installing custom art on their trailer. Manny quickly created this design and shortly after we completed the install.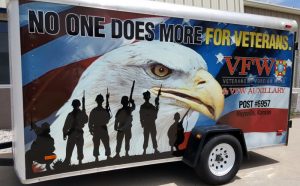 Vehicle graphics have consistently been shown to be one of the best investments you can make for your business. They reach 1000s of consumers on a daily basis, guaranteeing every penny paid is a penny well spent.
We often have clients call in to get a quote for graphics like these over the phone. However, we prefer to have the vehicle or trailer brought down to the shop. Things like rivets in the sides, doors, and paneling can often change the labor or vinyl used, thus affecting the quote. If you'd like to talk with someone about trailer graphics, call us at (316) 264-7446 to schedule a time to bring your vehicle or trailer by.