Prepping for trade shows can be stressful. It's hard to put together a rockin' display and find awesome swag, let alone mentally prep yourself to talk with people for hours on end! Think about the last time you went to an expo. Were you motivated to stop by the booths with a simple banner and no promotional items? Or were you drawn to the booths with a vibrant display and tons of freebies? That's what we thought.
Take a look at our cheat sheet for the ideal expo display—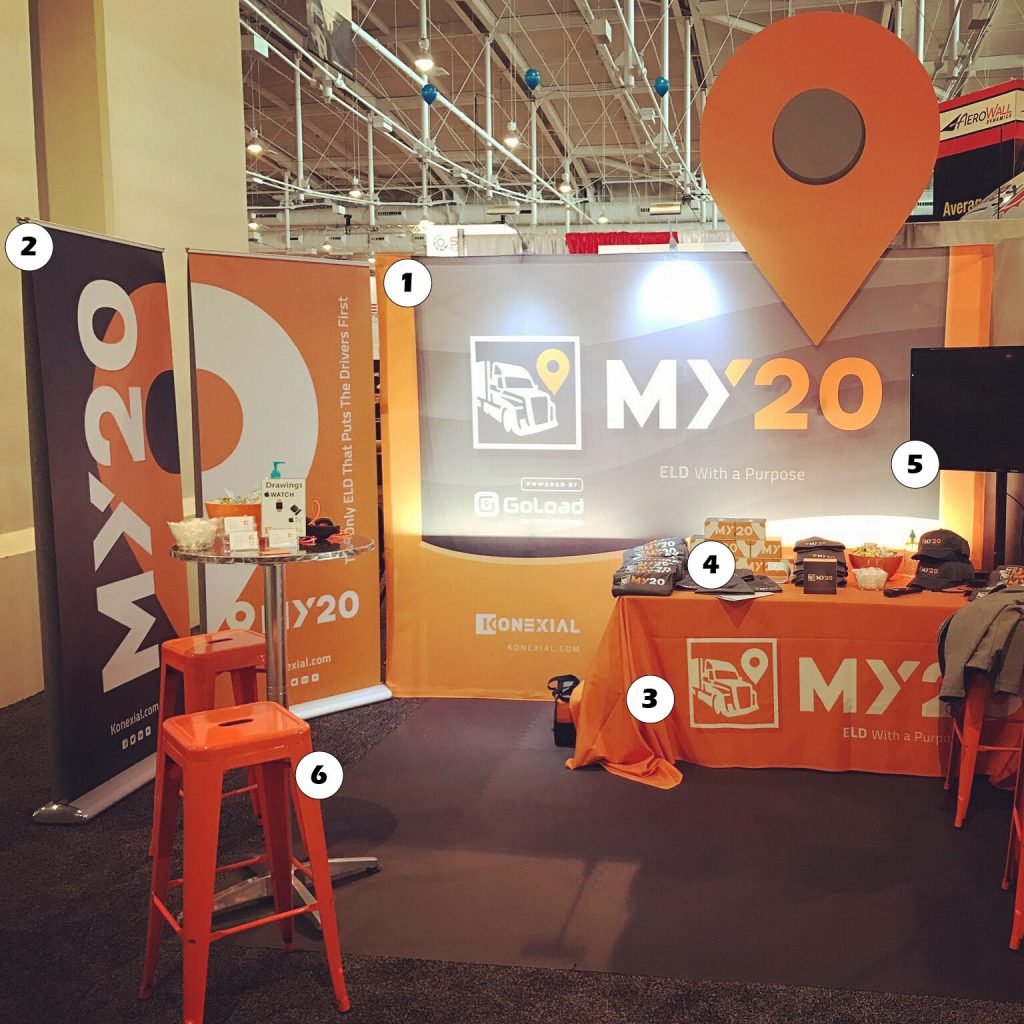 1) An eye-catching backdrop is probably the single most-important part of your display. Don't overwhelm attendees by making your backdrop verbiage heavy. Go for your logo/business name, pertinent contact information, and maybe a few products or services you offer. Bonus points if you can use photos instead of words to show available products and/or services.
The point of this product is to draw people to your booth and give them a brief idea of what your company has to offer. At Signs & Design we offer several backdrop options starting at just $170.
2) Additional signage like the retractable banners featured in this booth is the perfect way to provide more information to event attendees. Retractable banners aren't your only option either. A-frame signs or a simple foamcore sign on an easel are more price-conscious options. The retractable banners are a great choice for those who frequently attend trade shows because they collapse down and come with a carrying case. A-frames can be bulky and difficult to transport without a larger vehicle. Foamcore signs are easily damaged if you aren't careful with them; however they are great for one-time uses.
3) We love, love, love our full-dye sublimated tablecloths. They are full-color and can be machine washed and dried! They are less cumbersome to hang on a table than banners, and quite honestly, they're not that much more expensive. A 6' tablecloth runs $150, and the 8' runs $180. An 8' x 4' banner costs $144.
4) While your tradeshow booth is a first impression of your business, the swag is leaves a lasting impression on your potential client. Statistically speaking, people like useful freebies the best. Tech comes in at a close second though. Stadium cups, pens, and bags are fairly popular items, but don't limit yourself. We've got a database with over 800,000 promotional items. The sky's the limit!
One of our latest favorites is the Revablend. It's this awesome blender bottle that literally has a blender blade at the bottom. We put the sample to use almost every day!
5) Setting up a TV or computer in your booth is a savvy choice for numerous reasons. First, it's a great way to display more information (like photos or video) of your products and services. As a sign shop, this is something we utilize anytime we can. It's not like we can bring in a storefront, semi, or monument sign. Thus, we use a laptop with a slideshow of our favorite jobs/products.
Second, people don't always want to talk to you. Sometimes they just want to grab their freebies, maybe watch a short clip about your company, and move on to the next booth. Not ideal, but hey, not everyone wants to listen to a spiel, no matter how friendly you are. Using a video or slideshow in this instance is a passive way of reaching out to more people.
6) Last, but certainly not least, we always recommend having seating. Standing in one place for eight hours or more is hard on your knees. We try to pad the floor of our exhibit with interlocking square cushions, but you still start to feel aches and pains after a few hours. Do yourself a favor and find chairs that blend in with your display (like the orange stools in Konexial's booth). They offer your poor feet a reprieve throughout the event.
Do you recommend any other vital trade show products? We'd love to hear your suggestions. If you're in the market for new display materials, don't hesitate to reach out. You can reach us by emailing ariel@signsdesignwichita.com or through Facebook.