Every so often we have client call in with a tall order. Quite literally in this case. Our friends over at Lifeboat Creative contacted us to ask about putting decals on 6' tall rubber duckies that would be floating on the pond over at Bradley Fair during the Autumn & Art Festival.
We were happy to help with the project. No lie, it's mostly because we were excited to see a 6' rubber ducky in person! After all the details were hashed out and the install arranged, we were struck with doom and despair. On the day of our outdoor install, Mother Nature decided a rainy day was in order.
Hoping to find a dry spot where they could complete the job, our guys headed across town. Luckily the rain had subsided by the time they arrived. Once the duckies were inflated and the decals installed, we got our pictures and watched as they were released into the wild (more accurately, as they were shoved into the pond).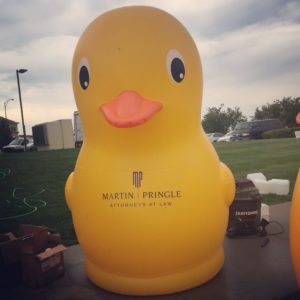 Another reason we enjoyed assisting with this project is because it was an out-of-the-box idea. We always strive to try and meet clients' requests. Do you have a random idea that would make for a really interesting project? Let us know! You can contact us here or email sales@signsdesignwichita.com. We usually get back to quote requests within 24 hours.