It's not often we're able to work on projects for causes that are simultaneously heartbreaking and inspirational. Our recent client, Linda, provided us with a such an opportunity. Linda's granddaughter, Aubrey, passed away August 17, 2013 from injuries sustained in a car accident. Her family was devastated.
Linda visited our office last month to order banners for a volleyball tournament to be held in Aubrey's memory. In our brief talks with Linda, she described her granddaughter as a kindhearted, loving young lady and talented athlete. Aubrey's story is a moving one—her memory inspires her family to live each day as fully as possible. Their resilience encourages us to be #AubreyStrong.
Here are some photos from the tournament: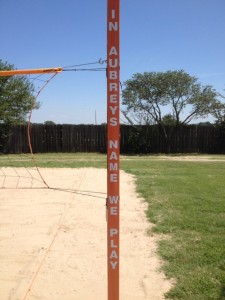 Thank you, Linda, for the wonderful opportunity. We hope you enjoyed working with us as much as we did with you.